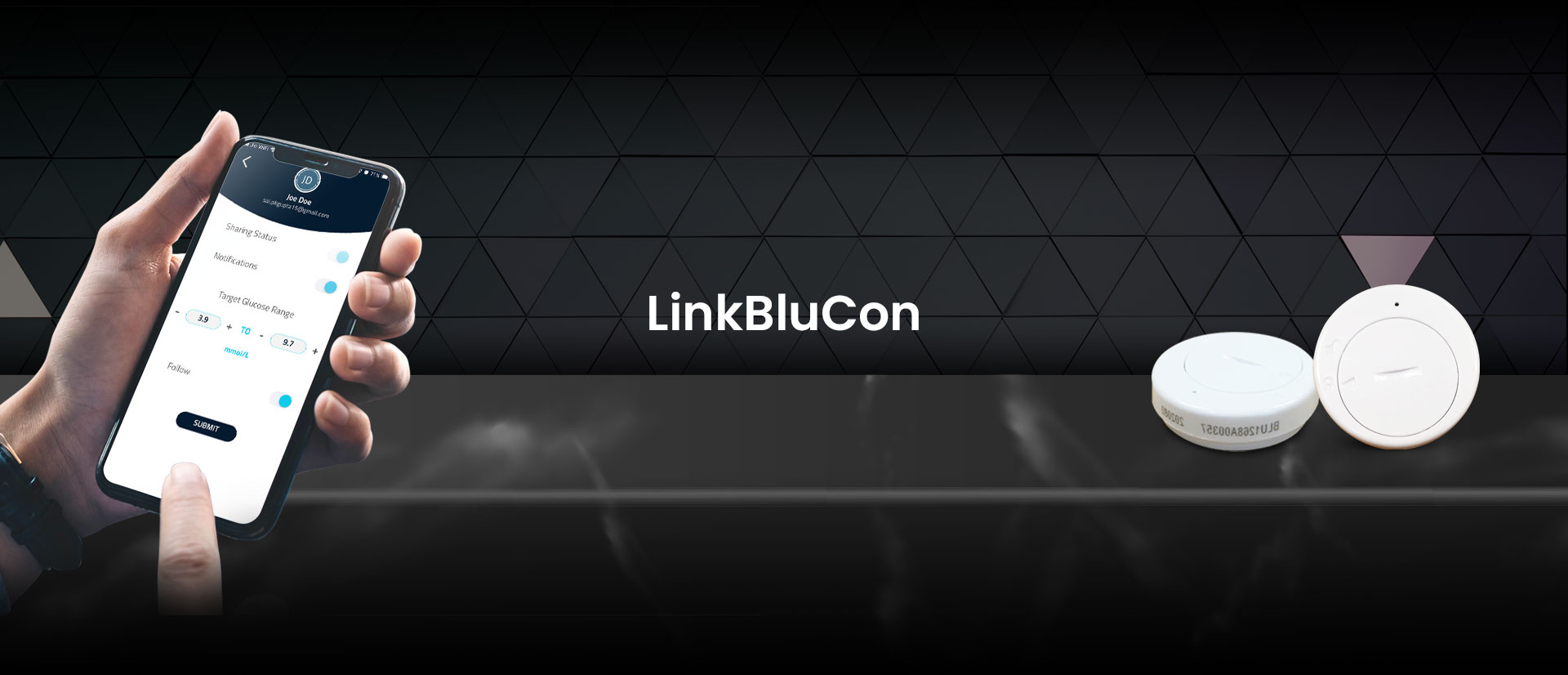 LinkBluCon is Ambrosia's mobile App which works along with NightRider BluCon to enable Continuous Glucose Monitoring (CGM) on a patient's mobile phone — iPhone or Android phone.
Connecting NightRider BluCon to LinkBluCon App:
NightRider BluCon needs to be connected to the LinkBluCon app in order to receive glucose readings every 5 minutes on the user's mobile phone.
To connect, first, the user needs to register himself with the Link BluCon app. This ensures all his data is saved on the server and hence easily recoverable, anytime, anywhere. If the user does not want to share this data with any one and is willing to take the risk of losing all his data, he may skip the registration process. Once registration is complete and the user is on the Connect BluCon screen, he needs to turn ON the NightRider by pressing the small switch inside a hole on top of the NightRider with a pin. Once switched on, a RED light will flash for a split second, indicating the NightRider is ON. If the light does not flash, that means the NightRider is turned OFF.
LinkBluCon app is also available on Android and Apple watches.
The watches can directly connect to
NightRider BluCon and display trends from NightRider
without the need of a Phone.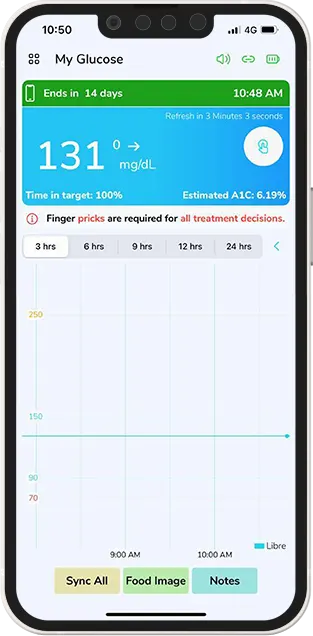 Home Screen (My Glucose)
Last reading, time and trend arrow
Graphs (last 3 hours, 6 hours, 9 hours, 12 hours, and 24 hours)
Option to Sync All last 4 hours glucose readings
Option to Add a Note about:
Food

Rapid Acting Insulin
Long Acting Insulin
Notes option: This relates to any additional information like Blood Glucose, food intake, exercise regime, insulin shots that the patient needs to communicate with the caregiver.
Comments option: Enter any other information not covered earlier.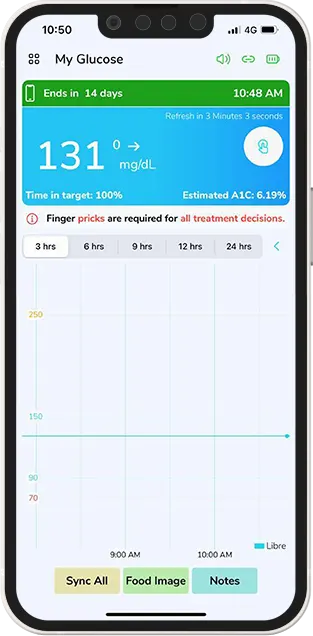 Home Screen Icons
Speaker icon. Tap on it to turn the voice OFF/ ON
Connection icon. Tap on it to connect or disconnect NightRider BluCon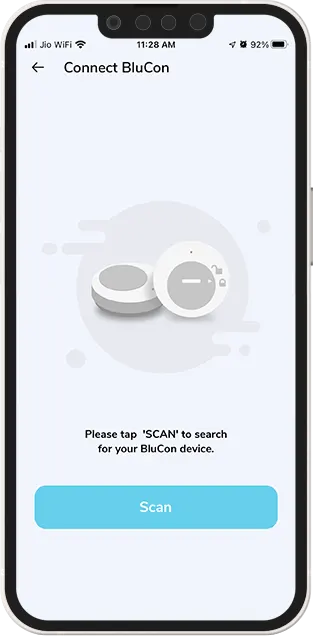 Connect BluCon
By using the scan feature, users can connect to nearby BluCon devices, automatically.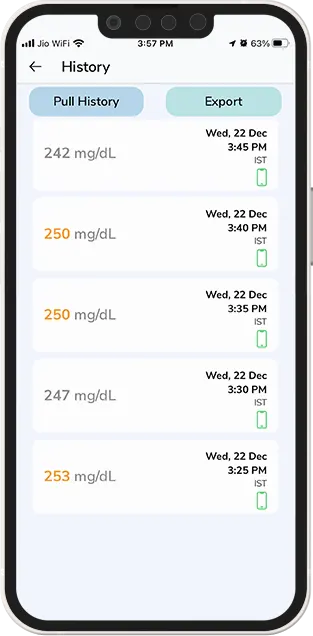 History Screen
Lists last 30 days reading and notes
Pulls last 30 days readings from the server
Exports last 30 days readings from phone to the email address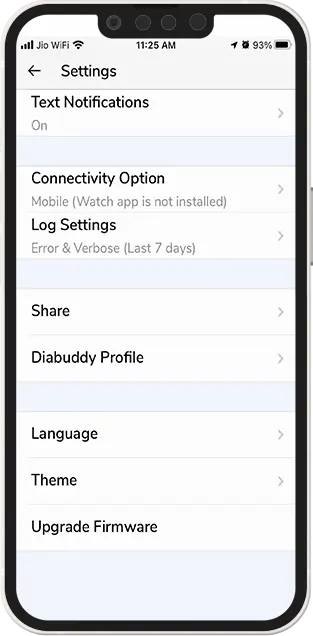 Settings
Option to change Unit of Measurement mg/dL to mmol/L and mmol/L to mg/dL
Set Target glucose range
Set Carbohydrate Units (grams, serving)
Insulin Dose Increments (in increments of 1 units or 0.5 units)
Speech Alert
Turn ON and OFF the alert (Only if it's turned ON, will below options work)
Turn ON and OFF the Repeat option.
Repeat every 30 seconds
Repeat every 60 seconds
Repeat every 150 seconds
Supported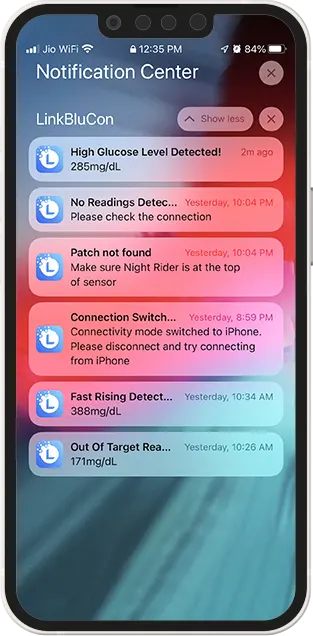 Notifications
Turn ON notifications to receive text notification about readings and connection issues
Select the reason for receiving notifications. For example, when reading is out of range or NightRider is disconnected.
When app did not receive the reading for 20 minutes
Healthkit Access (iPhone only)
Turn ON option to receive readings in the Apple Health app
Select Number of days, type of logs (Verbose or Error) to help find the cause of the issue
Choose the device you want to connect to NightRider BluCon — Mobile Phone or Watch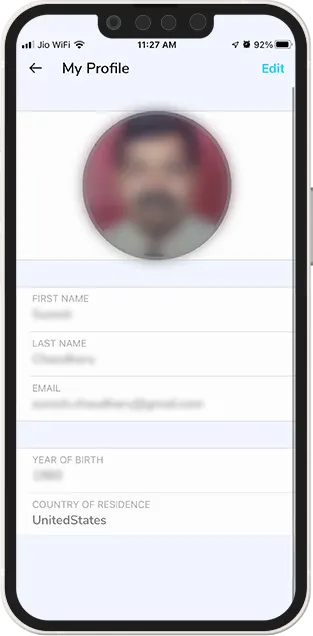 My Profile
First Name, Last Name
Email (Cannot be changed)
Year of birth
Country of residence
Click on update to make sure changes are applied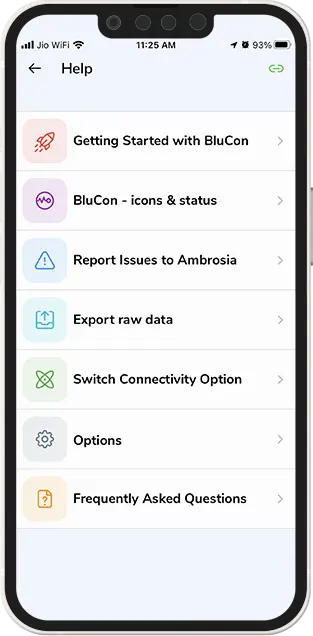 Help
Help about setting up NightRider BluCon
Getting Started
Report Issues to Ambrosia (This will let you send an email to Ambrosia customer support with LinkBluCon app log files)
Online manual available for users to set up their BluCon
Definitions of app icons regarding glucose trend arrows, connectivity indicators, and battery status indicators are listed here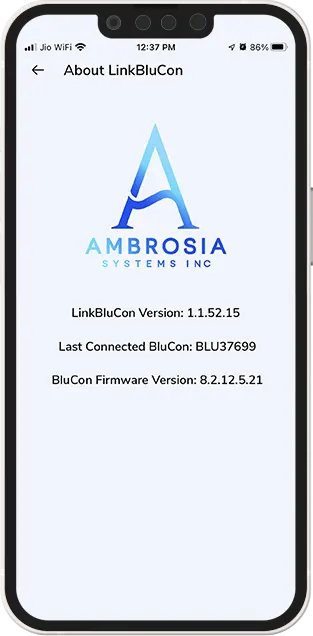 About
List LinkBluCon app version number
BluCon/NightRider serial number
BluCon/NightRider firmware version number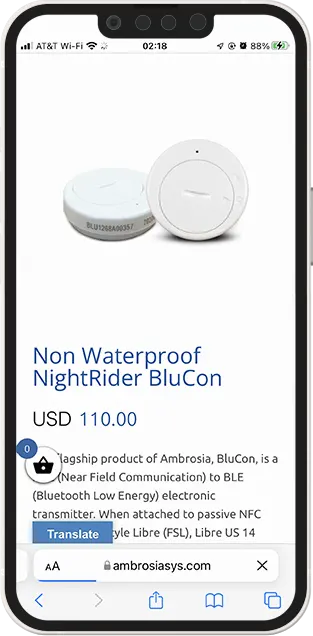 Buy BluCon
Option to buy NightRider/BluCon on AmbrosiaSys.com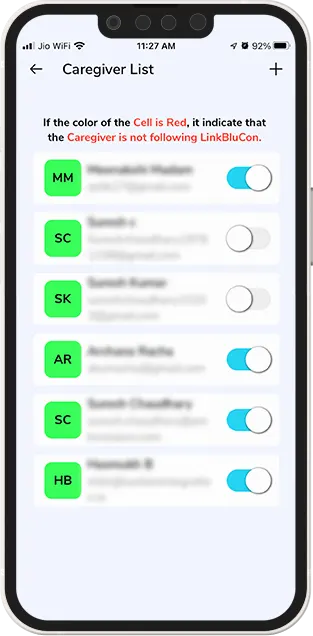 Caregiver
Option to invite Caregiver to open an account.
You need to enter the Caregiver's first name, last name and email id. Make sure, the email id you enter here is different from the email id in your LinkBluCon app account. LinkBluCon and FollowBluCon app cannot have the same email ids. The Caregiver will receive an email, once he registers the account with the same email to which the Caregiver invite has been sent. Accept the invite on the Invitation screen of the FollowBluCon app. Now, the Caregiver will start receiving glucose readings on his mobile phone through the FollowBluCon App. A LinkBluCon user can invite up to 5 Caregivers. A Caregiver can follow up to 20 LinkBluCon users.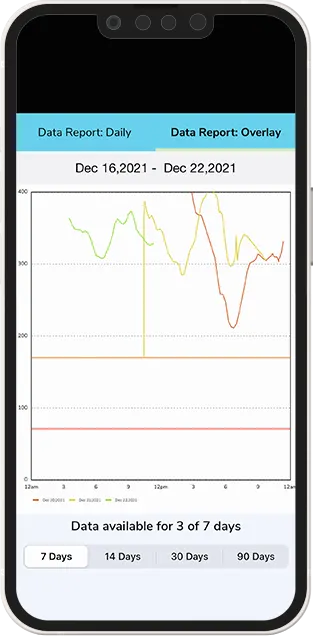 Reports
Daily Graph
Daily Patterns
Estimated A1C
Time In Target
Low Glucose Events